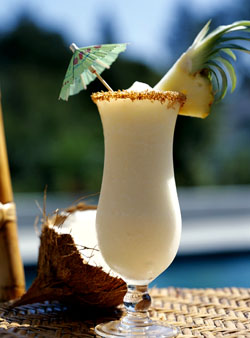 A rum drink originating in Puerto Rico. It is a matter of debate exactly where or when it was developed on the island, but it is generally agreed that it was indeed Puerto Rico.
This recipe contributed by The Bartending School
Ingredients
Edit
Directions
Edit
Blend at high speed until smooth.
Pour into a glass and serve with a straw.

Virgin Version: Replace rum with additional pineapple and coconut.
Ad blocker interference detected!
Wikia is a free-to-use site that makes money from advertising. We have a modified experience for viewers using ad blockers

Wikia is not accessible if you've made further modifications. Remove the custom ad blocker rule(s) and the page will load as expected.