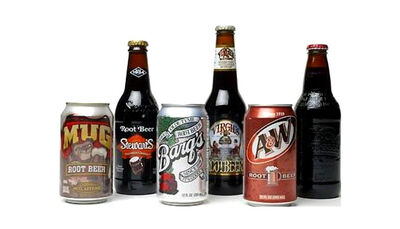 Root beer is a carbonated, sweetened beverage, originally made using the root of the sassafras plant (or the bark of a sassafras tree) as the primary flavor. Root beer, popularized in North America, comes in two forms: alcoholic and soft drink. The historical root beer was analogous to small beer in that the process provided a drink with a very low alcohol content. Although roots are used as the source of many soft drinks throughout the world, often different names are used.
There are hundreds of root beer brands in the United States, produced in every U.S. state. It is a flavor almost exclusive to North America, yet there are a few brands from other nations around the world, such as the UK, the Philippines, and Thailand where the flavor often varies considerably from the typical North American drink. There is no standardized recipe. The primary ingredient, artificial sassafras flavoring, is complemented with other flavors. Common flavorings are vanilla, wintergreen, cherry tree bark, licorice root, sarsaparilla root, nutmeg, acacia, anise, molasses, cinnamon, clove, and honey.
Ad blocker interference detected!
Wikia is a free-to-use site that makes money from advertising. We have a modified experience for viewers using ad blockers

Wikia is not accessible if you've made further modifications. Remove the custom ad blocker rule(s) and the page will load as expected.