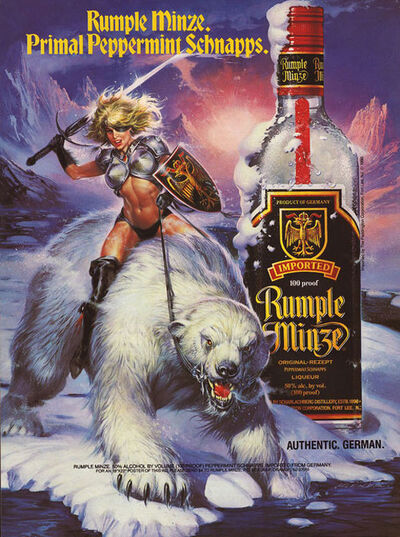 Rumple Minze liqueur is a strong Peppermint flavored schnapps. Rumpleminze has its origins in Germany however, it is made in canada now. 100 proof Rumpleminze liqueur is mostly drunk in shots it is very sweet and strong. Rumpleminze liqueur goes down easy with a refreshing peppermint aftertaste. We have listed here some of the cocktail recipes that use Rumpleminze Liqueur. Try one of these for a change from Rumpleminze shots.
From Wikipedia
Edit
Rumple Minze is a German-style liqueur brand, best known for their peppermint schnapps. The brand is owned by the alcoholic beverage holding company Diageo, based in London.
The peppermint liqueur is made by the Scharlachberg Distillery in Bingen, Germany. It has a strong candy-cane taste, and it has a high alcohol content at 50% alcohol by volume, (100 proof), compared to the 40% (or 80 proof) of most liquors. It is commonly served chilled, straight up, without a lime (in some cases as a digestif) or it can also be mixed to form various cocktails.
Rumple Minze was rated a 95 (out of a possible 100) by the Beverage Tasting Institute. The top market for this product is the United States. The success of their peppermint schnapps has led Rumple Minze to release two new flavors which include a berry flavored liqueur and a lime flavored liqueur, both of which are 100 proof.
The logo on the front of the bottle is a picture of a double-headed golden eagle. This symbol is a reference to the German coat of arms.
Ad blocker interference detected!
Wikia is a free-to-use site that makes money from advertising. We have a modified experience for viewers using ad blockers

Wikia is not accessible if you've made further modifications. Remove the custom ad blocker rule(s) and the page will load as expected.