Description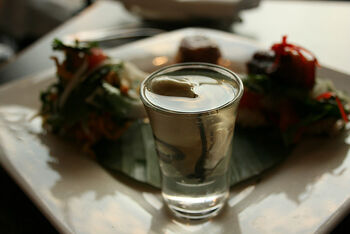 Oyster shooters are daring, sexy and fun. Try this sake variety for a twist on the original. Serves 1.
Ingredients
2 oz. (60 ml) vodka, best you can afford
1 lime (or 2 ounces (60 ml) lime juice)
1 small or medium sized oyster
Directions
Place oyster in shot glass
Squeez in the lime
Add vodka
Enjoy!
Ad blocker interference detected!
Wikia is a free-to-use site that makes money from advertising. We have a modified experience for viewers using ad blockers

Wikia is not accessible if you've made further modifications. Remove the custom ad blocker rule(s) and the page will load as expected.