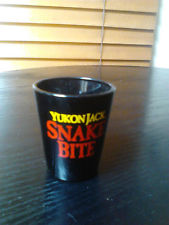 Description
Edit
This shooter does have a bite and its name, Snake Bite, is only appropriate. This is especially true when it is made with Yukon Jack sold in the U.S., which is a bold, biting 100 proof, as opposed to that sold in Canada which weighs in at a "mere" (yet still mighty) 80 proof.
The honey whiskey liqueur is definitely not for the faint of heart and has a "manly" reputation and in this popular shooter it is accented with the tart bite of lime.
Contributed by The Bartending School
Ingredients
Edit
Directions
Edit
Combine the ingredients into a cocktail shaker filled with ice.
Shake well
Strain into a shot glass
Ad blocker interference detected!
Wikia is a free-to-use site that makes money from advertising. We have a modified experience for viewers using ad blockers

Wikia is not accessible if you've made further modifications. Remove the custom ad blocker rule(s) and the page will load as expected.