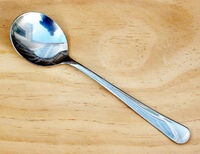 Name variations
Edit
cocktail spoon
muddling spoon
Description
Edit
A bar spoon is a long handled spoon used in bartending for mixing and layering of both alcoholic and non-alcoholic mixed drinks. Its length ensures that it can reach to bottom of the tallest jug or tumbler to mix ingredients directly in the glass. A bar spoon holds about 5 millilitres of liquid (the same as a conventional teaspoon). Its long handle is similar to an iced tea spoon but is usually decorative and elegant - some variations mimic large swizzle sticks, with a disc at one end.
Ad blocker interference detected!
Wikia is a free-to-use site that makes money from advertising. We have a modified experience for viewers using ad blockers

Wikia is not accessible if you've made further modifications. Remove the custom ad blocker rule(s) and the page will load as expected.