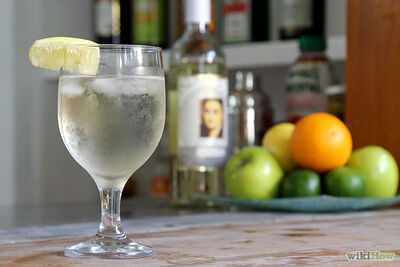 A spritzer is a tall, chilled drink, usually made with white wine and seltzer, club soda or sparkling mineral water.
This drink was mentioned in the first season Banacek episode Let's Hear it for a Living Legend.
Ingredients
Edit
Directions
Edit
Pour wine into a highball glass or Goblet with ice cubes
Add sparkling water of choice
Stir gently to combine
Garnish with Lemon wedge
Serve with straw
Besides the nature of the sparkling water and the glassware used, different types of wine may be used, from white to blush to red to non-grape wines.
Some prefer to use a Lemon-lime soda or Tonic water; often, these versions are better known by a local name.
Non-alcoholic versions can be made using grape or other fruit juices
Ad blocker interference detected!
Wikia is a free-to-use site that makes money from advertising. We have a modified experience for viewers using ad blockers

Wikia is not accessible if you've made further modifications. Remove the custom ad blocker rule(s) and the page will load as expected.