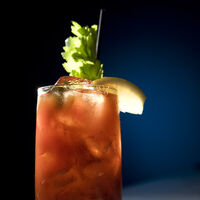 Preparation
Edit
In 11-ounce highball glass, stir together tomato juice, vodka, Worcestershire sauce, horseradish, hot sauce, salt, and pepper.
Fill glass with ice, then pour mixture into second glass.
Pour back and forth 3 to 4 times to mix well.
Sprinkle lemon juice over.
Garnish with celery stalk and lemon wedge (if using) and serve.