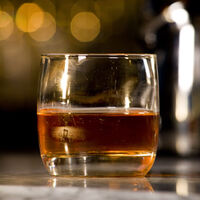 Preparation
Edit
In chilled cocktail shaker or pint glass, pour club soda over sugar cube.
Swirl glass until sugar dissolves, 20 to 30 seconds.
Add bitters, whiskey, and ice, and stir until well chilled, about 20 seconds.
Strain into chilled double old fashioned glass.
Squeeze orange and lemon peels over glass, making sure oils fall into glass.
Serve and enjoy!
Ad blocker interference detected!
Wikia is a free-to-use site that makes money from advertising. We have a modified experience for viewers using ad blockers

Wikia is not accessible if you've made further modifications. Remove the custom ad blocker rule(s) and the page will load as expected.