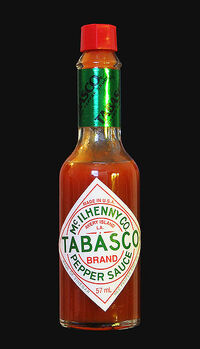 Tabasco sauce is the brand name for a hot sauce produced by US-based McIlhenny Company of Avery Island, Louisiana. Tabasco sauce is made from tabasco peppers, vinegar, and salt, and aged in white oak barrels for three years. It has a hot, spicy flavor. Although produced in the United States, it is named after the type of peppers used, said to originate in the state of Tabasco in Mexico.
Attempts to replicate the flavor of the sauce using the same types of peppers have resulted in a different-tasting sauce generally referred to as "Louisiana hot sauce". It is believed that the quality of the salt (exclusively from the Avery Island mines) has something to do with the unique nature of the sauce.
McIlhenny produces several varieties of Tabasco Sauce, ranging from the relatively mild Garlic Tabasco to the very hot Habanero. Unless specified in the recipe, it is a rule of thumb that "Tabasco" refers to the original recipe sauce.
External Links
Edit
Ad blocker interference detected!
Wikia is a free-to-use site that makes money from advertising. We have a modified experience for viewers using ad blockers

Wikia is not accessible if you've made further modifications. Remove the custom ad blocker rule(s) and the page will load as expected.