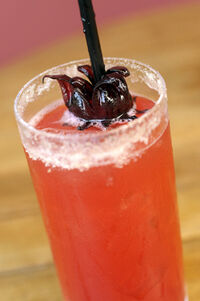 The hibiscus blossom and reddish hue of this drink are meant to recall the flesh-eating flower of the classic flick Little Shop of Horrors. Originally created at Virginia bar Jackson 20 to use up a surplus of product, The Audrey 2 has become so popular, bartenders can hardly keep enough tea liqueur and hibiscus syrup on hand.
Ingredients
Edit
2 ounces Milagro Tequila
2 ounces Chamomile Citrus Berry AperiTea (Mighty Leaf)
1 ounce Wild Hibiscus Flowers in syrup
1 ounce freshly squeezed lime juice
Directions
Edit
Ad blocker interference detected!
Wikia is a free-to-use site that makes money from advertising. We have a modified experience for viewers using ad blockers

Wikia is not accessible if you've made further modifications. Remove the custom ad blocker rule(s) and the page will load as expected.