Description
Edit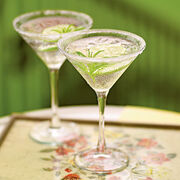 The Gimlet is classic cocktail that is the perfect go-to cocktail for the home mixologist — especially in the summer. It's easy, quick to put together and can be customized in all kinds of fun ways. The drink may be made with gin or vodka. Classicists tend to prefer gin in their Gimlets but the vodka version is popular too. Here are some variations that are fairly easy to come by or make yourself.
Ingredients
Edit
Standard Bar Version
Edit
Better Bar & Home Mixologist Version
Edit
Best Classic Version
Edit
Best Vodka Version
Edit
Directions for All
Edit
Shake with ice and serve Straight Up.
Garnish with a lime twist or a lime wheel.
Ad blocker interference detected!
Wikia is a free-to-use site that makes money from advertising. We have a modified experience for viewers using ad blockers

Wikia is not accessible if you've made further modifications. Remove the custom ad blocker rule(s) and the page will load as expected.