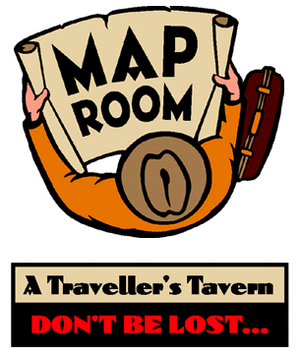 The Map Room doubles as a coffee shop in the morning and makes a smooth transition at 11 a.m. to also serve a wider variety of beers. The Chicago establishment was started with the idea of a traveler's tavern. They had a bit of trouble getting started in 1992 as a bar but after they built up their knowledge they were no longer vulnerable to the trickery of salesmen, who had tried to sell them "ice-brewed" beer.
After meeting Greg Browne, brewmaster at Mickey Finn's Brewery in Libertyville, IL they soon began to have a monthly "Beer school" one saturday a month. He comes and goes over the nuances of beer. People are able to learn how to taste beer and receive explanations as to the flavor's origins.
They offer over 200 unique brands from 36 different brewing styles from all over the world. They take their beer seriously and serve each beer in the proper glass and offer 26 taps.
Additionally they have a full service bar for your enjoyment.
Located at: 1949 N Hoyne Ave (between Homer St & Armitage Ave) Chicago, IL 60647
Ad blocker interference detected!
Wikia is a free-to-use site that makes money from advertising. We have a modified experience for viewers using ad blockers

Wikia is not accessible if you've made further modifications. Remove the custom ad blocker rule(s) and the page will load as expected.