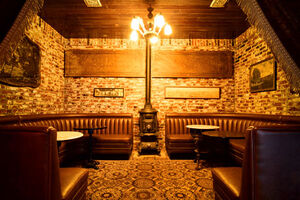 The Thirsty Crow
is a hybrid of Brooklyn, NY and the Eastside L.A. stylings. Located in the "hipster" Silver Lake neighborhood, this saloon has been carefully designed with a vintage look and feel. It's dark wood paneling and a giant horseshoe-shaped marble bar speaks of an era long past, and there is an air of nostalgia from the moment you step through the door. Primarily a whiskey joint - providing more than 40 varieties of bourbon, along with a few special reserves for the connoisseur, The 'Crow is also well adept in the science of mixology, having a lengthy list to choose from. For the east-coasters out there who find themselves in the vastly different west, here they may find a welcome taste of home.
Contact Info
Edit
2939 W Sunset Blvd
Los Angeles, CA 90026
(323) 661-6007
http://www.thirstycrowbar.com/
Cocktails
Edit
Ad blocker interference detected!
Wikia is a free-to-use site that makes money from advertising. We have a modified experience for viewers using ad blockers

Wikia is not accessible if you've made further modifications. Remove the custom ad blocker rule(s) and the page will load as expected.