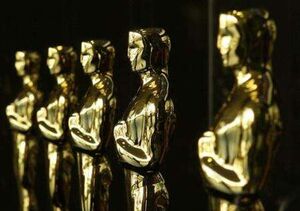 No Oscar Party menu is complete without cocktails! This year, instead of serving the same old drink lineup or simple champagne, why not consider serving up all of these amazing cocktail recipes that are all inspired by the 2013 Best Picture nominees, and let your guest drink to their favorite pick.
Argo
Cocktail: The Diplomatic Escape
This drink is inspired by the Canadian ambassador from the film as well as Ben Affleck's scotch drinking throughout. Learn how to make it.
Amour
Cocktail: L'Amour
I picked this recipe mainly because of its name, but this beautiful pink drink is blushing with love. Enjoy sipping this refreshing cocktail as you root for this ageless love story. Learn how to make it.
Beasts of the Southern Wild
Cocktail: Swamp Water
Set in steamy, swampy Louisiana, this imaginative movie deserves a lush, green beverage. I picked Swamp Water for its bright green coloring, slightly tropical flavors, and very fun name. Learn how to make it.
Django Unchained
Cocktail: Old Fashioned
Set in the mid-1800s, I went for a real old-world saloon favorite. If you're rooting for Quentin Tarantino's slavery revenge tale, mix up this super simple rye whiskey cocktail to set the mood. Learn how to make it.
Life of Pi
Cocktail: Bengal Tiger Cocktail
This Ang Lee-directed movie tells the tale of boy and a tiger lost at sea together. This cocktail made with brandy, Cointreau, and cherry liqeur has just a little tropical pineapple to give it a fruity sweetness. Learn how to make it.
Lincoln
Cocktail: The Lincoln
President Lincoln was a famous teetotaler, so - rather than drawing inspiration from the film's subject - this recipe plays off the film's themes of north vs. south with maple syrup and whiskey. Learn how to make it.
Silver Linings Playbook
Cocktail: Silver Linings
This emotional, romantic drama/comedy is sweet and uplifting by its end. This aptly-named sour and sweet cocktail fits the themes of the film well. Learn how to make it.
Zero Dark Thirty
Cocktail: Dark and Stormy
The harrowing, exciting and often disturbing film about the search for Osama Bin Laden deserves an incredibly dark and complex drink to go with it. I went with this spicy rum cocktail as the perfect pairing. Learn how to make it.
Ad blocker interference detected!
Wikia is a free-to-use site that makes money from advertising. We have a modified experience for viewers using ad blockers

Wikia is not accessible if you've made further modifications. Remove the custom ad blocker rule(s) and the page will load as expected.