Comments

0
The Latest Trend: Wedding Themed Cocktails
Ad blocker interference detected!
Wikia is a free-to-use site that makes money from advertising. We have a modified experience for viewers using ad blockers

Wikia is not accessible if you've made further modifications. Remove the custom ad blocker rule(s) and the page will load as expected.
Weddings normally mean one thing (besides, of course, two people professing their undying love to one another)- Money. Between the dress, the reception, the honeymoon, the dollars add up. One way couples are cutting back is to create one to two signature cocktails at their events.
Creating a signature drink, based on the preferences of the two newlyweds, can be a fun and unique way to save money and avoid a full bar. Generally, couples choose two to three drinks (a girly cocktail, a manly cocktail, and a non-alcoholic cocktail). In addition, they can offer a small selection of wine and beer.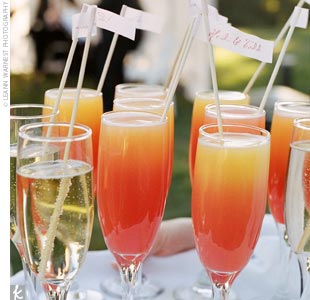 Here are some ideas for wedding themed cocktails:
Lavender Lady
Absolut Kurant Vodka
Blueberry Syrup
Club Soda
Spicy Lady
Ginger Beer
Dark Rum
Orange rind
Newlywed Sangrias
Red Sangria: Red wine, apricot brandy, cinnamon sticks
White Sangria: White wine, peach schnapps, fresh mango
---
---