Comments

0
Absolut creates special San Francisco vodka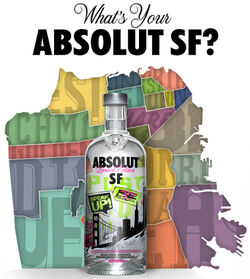 Do you happen to live in San Fran? Today, Absolut has released a special, limited edition vodka created especially for San Francisco. It is a mix of three flavors: dragon fruit, grape and papaya. Absolut's other recent local vodkas include ones for Boston, Brooklyn, Los Angeles and New Orleans.
The flavor of San Francisco's local vodka was decided upon by several prominent locals, including Kevin Rose, the founder of social networking site Digg, as well as artists Miguel Migs, Christopher Collins and Erik Otto. While the flavor might seem random, it has some local significance - the grape stands for Wine Conty, while the dragon fruit and papaya symbolize the Asian and Latin influence on the region.
Some of Cocktails Wiki's recipes involving Absolut vodka include Absolut Glee and Absolute Suicide. I wonder how they'll taste with the special San Francisco flavor.
Source: The Independent