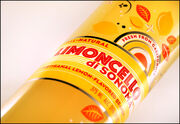 Ogden Nash said "Candy is dandy but liquor is quicker." Yes, the quote is often misattributed to Dorothy Parker, which says more about her punchy, if jaundiced, view of courtship than Nash likely intended –or did he? Who knows, maybe they dated –the point is the venture might have been more successful if there was a little limoncello involved. The lemon-flavored liqueur is "quickeur" if you catch my drift. If you don't, perhaps a primer on Limoncello di Sonoma airing at 8:30 p.m., (EST), Wednesday, February 23 on HDNet's Drinking Made Easy will illuminate you. The boozy travelogue features comedian Zane Lamprey and its title says it all. Fortunately, Limoncello di Sonoma proprietors Amy and Fred Groth have enough of the traditional Italian liqueur on hand to keep the conversation flowing. Just watch out for ye olde "If life gives you lemons, make limoncello" gag –peels of laughter won't follow.
Ad blocker interference detected!
Wikia is a free-to-use site that makes money from advertising. We have a modified experience for viewers using ad blockers

Wikia is not accessible if you've made further modifications. Remove the custom ad blocker rule(s) and the page will load as expected.