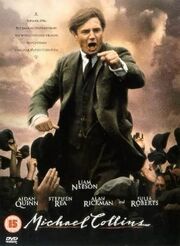 Those with any inkling of Irish history or – more likely on this side of the pond – a certain mid-90s flick depicting the life and death of an IRA revolutionary played by Liam Neeson, the name "Michael Collins" might ring a bell. And that's the point, explains Abaigeal Hendron, marketing brand manager for Michael Collins Irish Whiskey.
"Instead of naming it after a distiller or a place in Ireland, we decided to name it after a gentleman named 'Michael Collins' who fought for Irish independence in the 1920s," she elaborates. "The whole theme of the brand is independence, character and being authentically Irish."
Distilled by Cooley Distillery, the only independently-owned distillery in Ireland, the complex and well-balanced single-malt whiskies have a quiet hints of smoke and oak (at least 10% of the malted barley is peated) and are double-distilled in small, continuous stills. The result is a flavor and character that can stand up on its own or when mixed in a cocktail. Likewise, their blended whiskies also stand up well – though I couldn't after a recent mixologists event at San Francisco's 15 Romolo, where Michael Collins made its case that, as Hendron put it, "There's more to life than a shot, a car bomb or an Irish Coffee." Sláinte!
Ad blocker interference detected!
Wikia is a free-to-use site that makes money from advertising. We have a modified experience for viewers using ad blockers

Wikia is not accessible if you've made further modifications. Remove the custom ad blocker rule(s) and the page will load as expected.