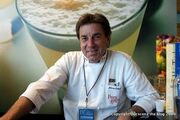 If Peruvian TV personality Johnny Schuler has his way, a new spirit will become the toast of US mixologists – pisco.
A strong but nuanced distillate of wine (but clear, unlike brandy and cognac), the spirit was first developed in Peru by Spanish settlers in the 16th century. Now, Schuler and his backers are proffering their own brand, Pisco Portón, which launches in select U.S. cities this April. Their hops is that it finds its ways into cocktails in the manner of other "white" spirits such as vodka and gin.
Schuler's ultra-premium pisto is what's dubbed a "mosto verde," literally "green must" and is distilled from partially fermented must, before the sugars are completely transformed into alcohol. The result is a complex flavor, an enticing aroma and a delicate finish.
Despite being one of the world's foremost authorities on pisco, Pisco Portón marks master distiller Schuler's first foray into the spirits business. As a founding member of the National Tasters Guild of Peru and served as its president for 17 years, is a member of CONAPISCO (The National Commission on Pisco) and worked for INDECOPI, the organization that verifies the authenticity and quality of piscos in Peru. He was awarded the Medal of Honor by Peruvian Congress for his work as an ambassador promoting the spirit.
Ad blocker interference detected!
Wikia is a free-to-use site that makes money from advertising. We have a modified experience for viewers using ad blockers

Wikia is not accessible if you've made further modifications. Remove the custom ad blocker rule(s) and the page will load as expected.