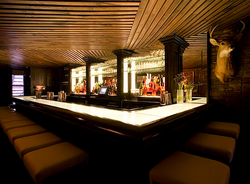 If you think your favorite watering hole down the street is the best bar in the world, think again. Amazing bars span the entire globe, and some of these might be in your very own neighborhood, or a twenty-hour flight away!
Eater.com released a list of bars put together by Drinks International magazine. This list features bars in the USA, UK, France, Australia, Singapore, Spain, and more. If you live in any major city, you might just find a bar in your city on the list--and now you know it's definitely worth trying out next weekend (but hey, why wait till the weekend?)
Here are the top 20- see any you recognize?
PDT, New York
Connaught, London
Artesian, London
Death & Co, New York
Milk & Honey, London
American Bar at the Savoy, London
69 Colebrooke Row, London
Drink, Boston US
Harry's New York Bar, Paris
Black Pearl, Melbourne, Australia
Pegu Club, NY
Dry Martini Bar, Barcelona
Eau De Vie, Sydney
Bramble, Edinburgh
Employees Only, New York
La Capilla Bar, Mexico
Merchant Hotel, Belfast
Nightjar, London
Smuggler's Cove, San Francisco
Buddha Bar, Paris

Source: Eater.com.
Ad blocker interference detected!
Wikia is a free-to-use site that makes money from advertising. We have a modified experience for viewers using ad blockers

Wikia is not accessible if you've made further modifications. Remove the custom ad blocker rule(s) and the page will load as expected.