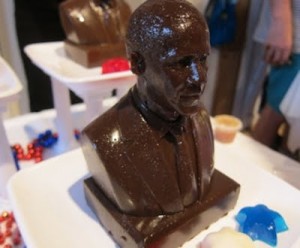 If you love Obama and Jello shots, you're in luck. Gelatin artist Matt Micari recently developed Obama Jello shots, firm Jello shots in the shape of President Obama's bust. His inspiration came from the comment that House Speaker John Boehner (R-OH) made during the debt crisis about how negotiating at the White House was like "dealing with Jell-O". To celebrate the positive outcome of this negotiation, Micari created the salted caramel Obama Jello shot, an homage to the President, since salted caramels are his favorite candy.
The recipe is super easy! Unfortunately, we're not all Jello artists like Miraci so we can't shape the shots into Obama's bust like he did. But we can make delicious Jello shots in Obama's favorite flavor.
All you need is:
4 serving size boxes of Jello Chocolate Pudding
2 envelopes Knox gelatin
1/2 cup salted caramel sauce (made from sea salt, sugar, unsalted butter, and vanilla extract)
1 1/2 cup whole milk
1/2 cup water
2 tbsp Bailey's Irish Cream liqueur
2 tbsp Godiva liqueur
You may not be able to make an Obama-shaped jello shot, but you sure can enjoy the President's favorite sweet in the form of patriotic Jello shots.
To see more photos like the one above by Raphael Brion, go to Eater.com.
And if all this talk of shots is making you thirsty, visit our Beer Wiki to win a ThirstyBear Brewery PRIZE PACK!
Source: Obama Foodorama
Ad blocker interference detected!
Wikia is a free-to-use site that makes money from advertising. We have a modified experience for viewers using ad blockers

Wikia is not accessible if you've made further modifications. Remove the custom ad blocker rule(s) and the page will load as expected.