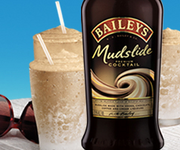 The makers of Bailey's Irish Cream, R&A Bailey & Co, are set to release an exciting new cocktail drink for this summer. Baileys Mudslide will be available beginning in May for the suggested retail price of $12.99 for 750ml and $19.99 for 1.75 ml.
Sources
Ad blocker interference detected!
Wikia is a free-to-use site that makes money from advertising. We have a modified experience for viewers using ad blockers

Wikia is not accessible if you've made further modifications. Remove the custom ad blocker rule(s) and the page will load as expected.