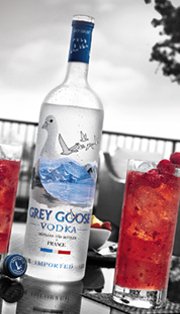 Excited about the upcoming Memorial Day celebrations? Plan on cooking out and maybe enjoying some tasty cocktails? PR Newswire has just reported that Grey Goose vodka has come out with a new responsible drinking campaign to encourage you to be responsible over the Memorial Day weekend. The company will be releasing a 30 second commercial that they have titled "Strengths." This new commercial is part of Grey Goose's efforts to encourage that consumers are careful about their consumption levels.
In a press release Shane M. Graber, Grey Goose vice president and managing director, said "we encourage consumers to make the most of this holiday weekend by taking the time to reconnect with family and friends. Consumers of GREY GOOSE appreciate the care and attention we put into crafting the World's Best Tasting Vodka and they understand that quality and responsibility go hand in hand. We are launching this campaign to recognize the importance of living and drinking responsibly."
The commercial will be also made available for viewing on Grey Goose's Facebook profile.
Sources
Ad blocker interference detected!
Wikia is a free-to-use site that makes money from advertising. We have a modified experience for viewers using ad blockers

Wikia is not accessible if you've made further modifications. Remove the custom ad blocker rule(s) and the page will load as expected.