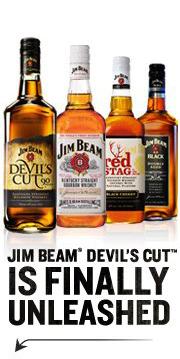 Feeling slightly devilish? If so then we have good news for you. Jim Beam, formally known as Beam Global Spirits & Wine Inc., is prepared to release what they are referring to as Devil's cut bourbon. Devil's cut bourbon is a bourbon that has been aged for six years.
The term "Devil's cut" is a play on the concept of the brewing concept known as "angel's share." The angel's share refers playfully to the lost liquid that disappears in the barrel through the process of evaporation.
The process of creating Devil's cut is:
Barrels are emptied and agigated through a tedious process that pulls the flavors of the bourbon from the trapped wood.
To achieve the balance of flavors, the liquor is then stored.
The liquid gets re-added to the aged bourbon.
Head distiller Fred Noe states: ""With Devil's Cut, we're breaking new ground by unleashing that trapped bourbon from the barrel and giving people a chance to really experience that bold flavor in a way that they never have before."
Where can you get Devil's Cut? Good question. Beginning in May, it will be rolled out in the areas of New Hampshire, Pennsylvania, Virginia, Washington, Ohio, North Carolina, and Oregon. It will see nationwide release later on in the summer.
How expensive is this delicious bourbon going to be? It is suggested that it retails at the price of $23.99 for a 750ml bottle.
Sources
Ad blocker interference detected!
Wikia is a free-to-use site that makes money from advertising. We have a modified experience for viewers using ad blockers

Wikia is not accessible if you've made further modifications. Remove the custom ad blocker rule(s) and the page will load as expected.