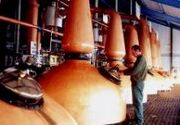 Helius CoRDe Ltd., which is comprised of a partnership between the Combination of Rothes Distillers, Helius Energy Pl, and Rabo ProjectEquity BV, is working on the development of a £60.5 million biomass/feeds combined heat and power plant which will be completed in 2013. These Scotch distillers will use this plant to generate 7.2 MW of electricity and be used to provide animal feed.
According to Gavin Hewitt, Scotch Whisky Association chief executive, "This project underlines the Scotch Whisky industry's commitment to investing in the future.
"In 2009 the industry made a commitment to reduce its reliance on fossil fuels as a source of energy. The project shows how we can create a virtuous circle within the Scotch Whisky production process.
"The innovative project is an excellent example of what can be achieved through collaboration between Scotch Whisky distillers. It will be a welcome boost to the region in these challenging economic times."
It is a tremendous initiative to go green on the part of these scotch producers.
Related Wikis
Sources
Ad blocker interference detected!
Wikia is a free-to-use site that makes money from advertising. We have a modified experience for viewers using ad blockers

Wikia is not accessible if you've made further modifications. Remove the custom ad blocker rule(s) and the page will load as expected.