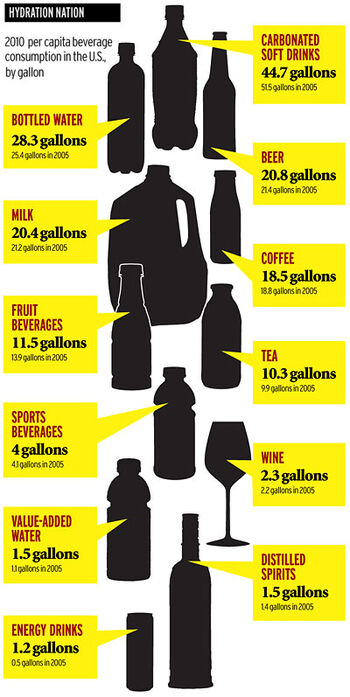 I know that most of us can barely make it through a day without pouring themselves a delicious cocktail. Perhaps, some of you wake up in the morning and start drinking Mimosas and finish the night with a night cap of gin. However, shockingly a new infographic released by Advertising Age shows that Americans drink far less than believed. Americans tend to drink soft drinks at an alarming rate of 44.7 gallons. In second comes water and at third comes beer.
Disappointingly the closest spirits comes in almost last place at only 1.5 galloons. Even the winos tend to consume more Wine.
Are you disappointed with where spirits showed up on the graph? If so there are plenty of great cocktails on here, give them a try!
Sources
Ad blocker interference detected!
Wikia is a free-to-use site that makes money from advertising. We have a modified experience for viewers using ad blockers

Wikia is not accessible if you've made further modifications. Remove the custom ad blocker rule(s) and the page will load as expected.