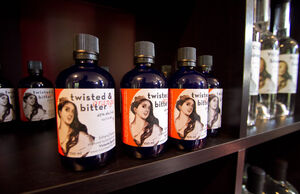 Barking Dog Distillery, the local distillery in Victoria which produces Victoria Gin, are looking to expand their production into the United States. The company, in its third year of operation, has recently been invited to New Orleans for the Tales of the Cocktail. The Tales of the Cocktail is one of the premium cocktail festivals.
Head distiller Peter Hunt says: "We are going to be looking for an agent in the States. We're really hoping to break into that market in the near future." If the distillery finds an agent in the United States, they will have to increase the size of their distillery. It is currently only a one pot distillery. Hunt continues, ". "I imagine we'll have to get a second still at some point, though I expect that's still probably a year away."
The company has also looked into producing other spirits such as vodka and bitters.
All I can say is the more gin the better. Bottoms up.
Sources
Ad blocker interference detected!
Wikia is a free-to-use site that makes money from advertising. We have a modified experience for viewers using ad blockers

Wikia is not accessible if you've made further modifications. Remove the custom ad blocker rule(s) and the page will load as expected.