Whiskey
Comment

1
1,315pages on
this wiki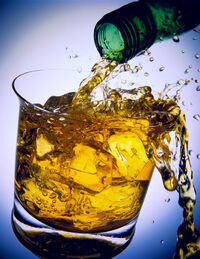 Whiskey is a
spirit
made from the distillation of grains.
Irish whiskey is a whisky made in Ireland.
Scotch whisky is a whiskey made in Scotland.
Canadian whisky is a rye whisky made in Canada.
Whiskeys are "Single Malt," or "Blended."
Bourbon is a type of whiskey made from the distillation of corn and other grains. It is a distinctly American spirit. According to the US Government, Bourbon must contain at least 51% corn while the rest may be other grains. It was first distilled in the 17th century on the Berkeley Plantation in Virginia, although it is now most often associated with Kentucky.
External Links
Edit