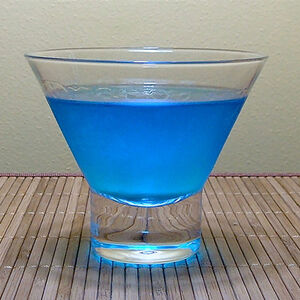 The Windex is a mixed cocktail reputedly created in a Quebec truck stop.
Its appearance and smell resembles Windex window cleaner, though its taste is closer to an effervescent raspberry Jell-O.
Ingredients
Edit
Directions
Edit
Strain into highball glass
Pour in chilled soda
DO NOT ADD ICE! It will ruin the appearance of the drink.
Serve with a straw, preferable one reminiscent of the bottle of cleaner
Only consume a Windex cocktail you have personally seen prepared or from a trusted source; real Windex cleaner is poisonous.
Ad blocker interference detected!
Wikia is a free-to-use site that makes money from advertising. We have a modified experience for viewers using ad blockers

Wikia is not accessible if you've made further modifications. Remove the custom ad blocker rule(s) and the page will load as expected.