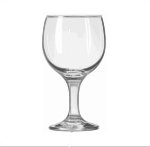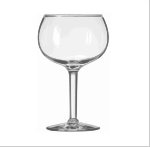 A wine glass is a type of glass stemware that is used to drink and taste wine. It is generally composed of three parts: the bowl, stem, and foot. Selection of a particular wine glass for a wine style is important, as the glass shape can influence its perception.
Red wine glass
Edit
Glasses for red wine are characterized by their rounder, wider bowl, which increases the rate of oxidation. As oxygen from the air chemically interacts with the wine, flavor and aroma are subtly altered. This process of oxidation is generally more compatible with red wines, whose complex flavors are smoothed out after being exposed to air. Red wine glasses can have particular styles of their own, such as
Bordeaux glass: tall with a broad bowl, and is designed for full bodied red wines like Cabernet and Merlot as it directs wine to the back of the mouth.
Burgundy glass: broader than the Bordeaux glass, it has a bigger bowl to accumulate aromas of more delicate red wines such as Pinot Noir. This style of glass directs wine to the tip of the tongue.
White wine glass
Edit
White wine glasses vary enormously in size and shape, from the delicately tapered Champagne flute, to the wide and shallow glasses used to drink Chardonnay. Different shaped glasses are used to accentuate the unique characteristics of different styles of wine. Wide mouthed glasses function similarly to red wine glasses discussed above, promoting rapid oxidization which alters the flavor of the wine.[citation needed] White wines which are best served slightly oxidized are generally full flavored wines, such as oaked chardonnay. For lighter, fresher styles of white wine, oxidization is less desirable as it is seen to mask the delicate nuances of the wine.[citation needed] To preserve a crisp, clean flavor, many white wine glasses will have a smaller mouth, which reduces surface area and in turn, the rate of oxidization. In the case of sparkling wine, such as Champagne or Asti Spumante, an even smaller mouth is used to keep the wine sparkling longer in the glass.
As a Unit of Measurement
Edit
When a recipe calls for a wine glassfull, it is calling for 2 oz. of liquid.
This is because despite its size and overall capacity, a wine glass is designed to let the wine "breathe" and allow for maximum mouthfeel, flavor and aroma, so that only a small portion of the cup is actually full.
See also
Edit
Ad blocker interference detected!
Wikia is a free-to-use site that makes money from advertising. We have a modified experience for viewers using ad blockers

Wikia is not accessible if you've made further modifications. Remove the custom ad blocker rule(s) and the page will load as expected.