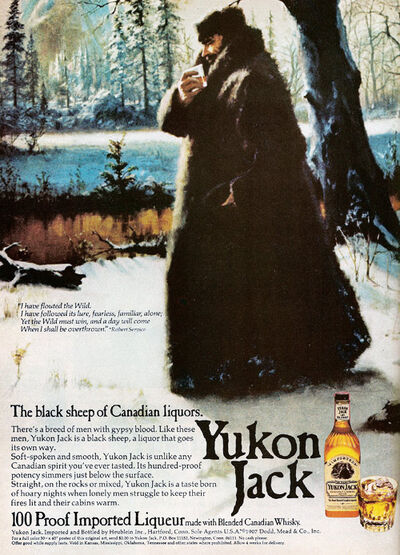 Yukon Jack is a liqueur advertised as the "Black sheep of Canadian Liquors". It is a 100 proof (in USA) or 80 proof (in Canada) drink, made from Canadian whiskey and honey. Yukon Jack is imported by Heublein Inc.[clarification needed] Yukon Jack is made in Valleyfield, Quebec. Bottles available for sale in the US are imported and then bottled in Norwalk, Connecticut.
The taste is sweeter than straight whiskey and bourbon, due to the honey that is added.
Ad blocker interference detected!
Wikia is a free-to-use site that makes money from advertising. We have a modified experience for viewers using ad blockers

Wikia is not accessible if you've made further modifications. Remove the custom ad blocker rule(s) and the page will load as expected.